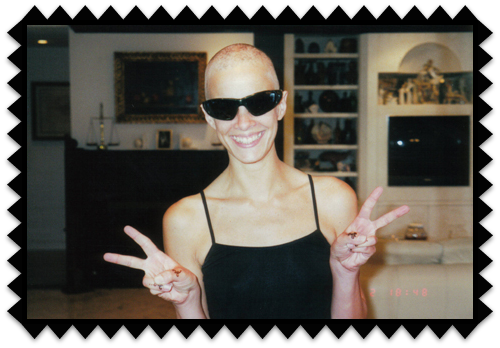 As a newly arrived ovarian cancer survivor, I decided that when I finished with my long and winding road of a health journey, I would use my experience and the healing choices that I made for myself to help others learn to flip the script on this beeyotch (sorry), and tap into their inner resources of self-love, self-empowerment, and positive energy to heal themselves in mind, body, and spirit.
So Bald Is Beautiful was born. My hope is that these loving pages can be a source of inspiration, information, comfort, resource, or perhaps they will renew your spirit, ignite your will to learn and live and love, or maybe just make you smile or laugh for one brief shining moment in the midst of the storm.
And so that is why I dove in to create my lil' off-ramp on the information superhighway and share my stories — myself — with you!
But long before that, I was born . . .
. . . in Miami, Florida, where I lived, attended public schools, played lots of sports and musical instruments, and swam in the beautiful oceans of Miami Beach (aaaaah!) until 1989, when I left the Orange State for the Big Apple to go to college. I attended Barnard College/Columbia University in New York City, where I designed the first-ever undergraduate Ethnomusicology program which I completed as a Dean's List honoree and Cum Laude graduate (with a minor in Architecture – that's another story).
Upon graduation and after working at a classical music booking agency for one year, I became a marketing executive after being hired as an assistant for Verve Records, where I rose through the ranks from assistant to coordinator to marketing manager within several years. In addition to my marketing responsibilities, I was asked to oversee Special Projects and, at the label president's request, acted as A&R liaison for new artist releases & submissions, as well as producing new release and reissue compilations, and overseeing remix and world music projects.
After six years of devoted and passionate work, I left Verve in June 2000 to pursue other personal and professional interests. I spent the next several months in Europe exploring various opportunities there, and then in October 2000 took a vacation in Miami. While there, I was diagnosed with a rare form of ovarian cancer and my one-week visit became a 3-year "residency" with my family, various doctors, and several medical facilities in the Greater Miami area from north to south Miami!! After several surgeries, four rounds of chemotherapy (in conjunction with a host of complimentary therapies), and a final surgery this past January 2003, I am at last cancer-free.
In retrospect, when I considered various aspects of the cancer journey, specifically the initial hair loss, I felt that there was a drastic imbalance of energy in how people, myself included, process the idea of being diagnosed and consequently experience cancer. I met so very many women along my path that were overwhelmed and beaten down by hair loss and/or other external, aesthetic issues that this health challenge raises, and we simply cannot afford any negative energy in the form of self-doubt, low self-esteem, and insecurity when we are fighting for our lives!
Bald is Beautiful is how I have begun my new career as a women's wholeness and cancer awareness advocate, and I'm headin' out there (pun intended) full steam ahead!